The Treehopper "Helicopter" from the Steamy Jungles of your Mind
Sure, Salvador Dali came up with some lovely surreal forms in his art, but this thing blows them all out of the water. Seen in Berlin's Museum of Natural History, this is the Brazilian Treehopper, or Bocydium globulare – a real living insect, which only pretends to be an alien helicopter:
Its other name is "The Bell Bearer"; the "Globulare" part of its Latin moniker stands for these utterly bizarre spheroids on the top (they are not antennae!).
It's obvious why many people have wondered if Mr. Keller (who did many replicas for Berlin's Museum of Natural History in the 1950s) did not just come up with this replica from his imagination. It is truly hard to believe that such a thing can exist on Earth. And yet it does, together with other weirdly-shaped Membracids (relative to cicadas), shown below.
Other insect replicas by Alfred Keller were damaged or lost during the Second World War, but this sculpture was preserved by Berlin's Naturkundemuseum – a perfect find for modern concept artists and game designers!
We've shown you some bizarre insects before , but seeing Bocydium globulare may very well re-define your concepts of what constitutes "weird" in nature:
Patrick Landmann shows some more of these weird cicada-related creatures:
More Specimens from the Surreal Insects Gallery:
Orchid mantis is shy… but pleased to meet you: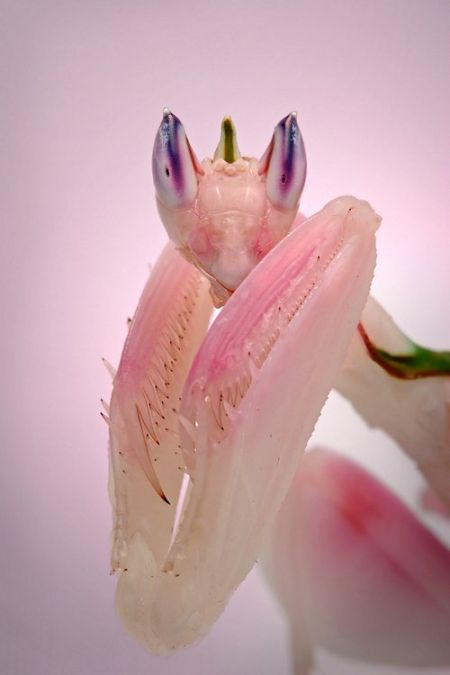 Offer it bits of a banana, it loves to nibble on bananas.
Here is Ctenomorpha Chronus, a stick creature from your not-so-peaceful dreams… It can be downright disturbing when you mistake it for a branch and decide to idly brush it off:
The "chronus" part in its name probably stems from the fact that it resembles long, sporadically moving clock hands… "The abdomen contains numerous spots. Each segment is tipped with black colouration" – also somewhat similar to clock markings.
The Mole Cricket looks like it was loosely glued together from two disparate, unrelated halves:
Its forearms are perfectly fit for digging subterranean tunnels, plus it can fly eight kilometers, if it wants to.
A furry, hairy, cuddly caterpillar (actually a larvae of Southern Flannel Moth): Megalopyge opercularis from Brazil -
A similarly cuddly hairy creature is the appropriately named (and sinister) Puss Caterpillar. It looks innocent and fluffy enough that many kids and adults would happily pick them up, only to find… "the numerous sharp, venom-laden spines, hidden beneath its luxuriant coat of soft hairs"! These venomous spines cause excruciating, unrelenting pain, quickly spreading into the chest, sometimes leading to suffocation.
Look at its lovely little "teeth":
Finally, here is a picture of a biggest grasshopper ever:
Lucky for us all, this old photograph is the early example of a "fake" photo-manipulation job. (Sighs with relief…)
Awesome Stories From The Web: